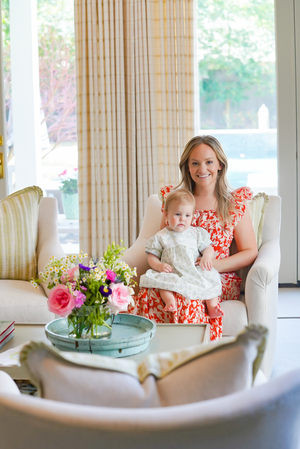 The Story Behind Euclid Home
Inspired By All Things Embroidery!
Hi! Parker Howard here, the founder of Euclid Home. I named my business after the street my parents live on, "Euclid." Since embroidery and monograms usually commemorate special moments and familial relationships, it seemed to be the perfect fit for what I do.
My background is in antiques, however, my passion has always been embroidery. So, after I had my daughter, I decided to finally make the leap! I closed my antique shop in early 2022 and opened the doors to Euclid Home. So welcome! Although I'm new to the world of embroidery, I hope for Euclid Home to become your go-to for all things embroidery. 
It brings me so much joy to be able to mark life's most significant moments through my unique custom embroidery. From weddings to births, to new homes, thank you gifts, anniversaries, and beyond, each of my designs serves as tokens of remembrance, markers of milestones too precious to forget. 
I take so much pride in this party-of-one operation. I do everything from helping curate the right color and font pairing to the embroidery work itself. Simply put, I do it all, and I couldn't be happier to be of service to you.
So, thank you for supporting my independent venture. Have a look around, get inspired, and let me know how I can help create a design that feels uniquely you. 
Cheers!
Parker
Parker's Go to Monograms